Sep 9, 2016 02:56 PM Central
Tonia & Colin McArthur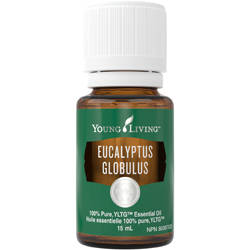 Young Living Canada Natural Health Product Feature: Eucalyptus Globulus
There is just no other aroma in the world quite like Eucalyptus and so today we're excited to talk to you all about Eucalyptus Globulus! Quite often when we smell something that is familiar to us, we'll connect a smell directly to a memory our brain has connected it to. Our olfactory system works hand in hand with the part of our brain that stores memory and so they're easily triggered when you smell something associated with it. It's why you might hear someone say, "Oh, Nutmeg always reminds me of Nan's at Christmas time", or something of that nature. Eucalyptus reminds us of wellness because we associate it with recovering from a cough or cold! Isn't it fantastic that Health Canada recognizes and approved Young Living's Eucalyptus Globulus, then, As a Natural Health Product? Have you been looking for helpful alternatives this cough and cold season for your family?
Remember, be your own best advocate when it comes to the products you use in your home. www.ylsearch.com is a great resource that we like to use.
For additional product information and details, refer to the Canadian Young Living Product Guide.
Imagine how quickly you can reduce symptoms of a cough by simply adding a few drops of Young Living's Eucalyptus Globulus to your diffuser or perhaps even a few drops with a carrier oil in half a cup of epsom salts for a hot, steaming bath. This cough & cold season, be prepared with natural remedies that will support your body's healing process with a soothing essential oil from a top essential oil company whose farms and farming practices mean more to them than anything else. Quality crops make for the highest beneficial properties in your essential oils and is the reason why more than 40 of Young Living's essential oils are now Health Canada approved with many more on the way.
Ready to try? Click here to receive a 24% discount with your wholesale membership for any of Young Livings Products including Eucalyptus Globulus!
Select Young Living Oils By Natural Health Product Claims
---
---