Sep 26, 2016 09:56 AM Central
Tonia & Colin McArthur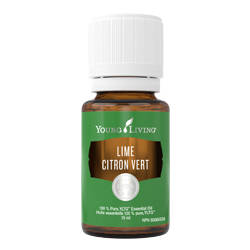 Young Living Canada's Lime Essential Oil
Most time when you hear the word 'Lime' you are picking up a few limes for a recipe or asking the bartender to put one into your Corona. While both of those situations are great, especially the corona one, we are not going to talk about anything like that.
With Young Living Canada's Lime Essential Oil you now have a great alternative for treating ailments such as cough and cold, rheumatoid arthritis, strains sprains or even acne. Or just like in a recipe for your favorite dish, add a drop or two into your
Aria Diffuser or Dew Drop Diffuser
to add a nice crisp and clean aroma to freshen up your home with a clean and crisp aroma.
For additional product information and details, refer to the Canadian Young Living Product Guide.
With a retail membership the cost of a 15 ML bottle of Lime Essential Oil is $15.50. A 15 ML bottle contains 250 drops which means for very little money you can get a lot of essential oil that can do many things. This is a great oil to get if you are just being introduced to essential oils or are a seasoned veteran.
Select Young Living Oils By Natural Health Product Claims
---
---